There are several different variations to the Cloud Adoption Framework. It seems like every hyperscale cloud provider has their own iteration of this. If you do a Google search for Cloud Adoption Framework, you will find results based on AWS, GCP, Azure, even Oracle Cloud, and others. Luckily, they all seem to follow the same basic principles.
The Framework is designed to provide guidance on the cloud journey, making sure each important aspect is considered. Typically, it consists of six different pillars:
Business Perspective
People Perspective
Governance Perspective
Platform Perspective
Security Perspective
Operations Perspective
The below image depicts the six pillars, with the roles and capabilities associated with each.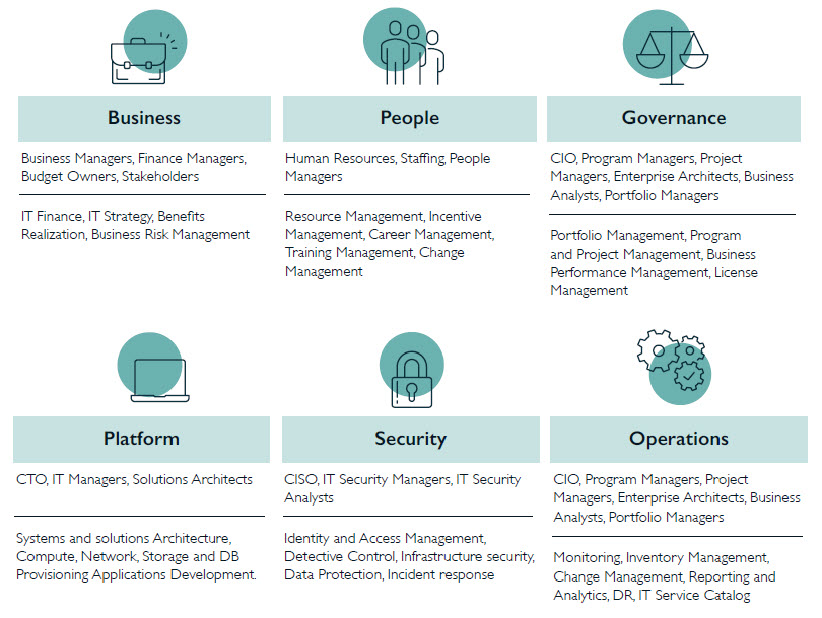 Without buy-in across all six pillars before a project starts, it will likely be a rocky road.
From the onset, business has to be engaged to ensure transparency and a concise understanding of the models, costs, strategy, and risks. The people pillar is also very important, as the right training must take place so everyone understands their role in the digital transformation.
You will also have to engage with senior management around governance and compliance to understand their requirements and to make sure all the pieces fit. This would be a good opportunity to explain the benefits and reasoning behind the journey.
Careful consideration would need to be given to the platform to be used. It is important that the technical staff understand the technology and support the transformation. Similarly, from a security perspective, it will be important to have detailed workshops with security analysts and the CISO, particularly to establish who has access, and how access is granted. In addition, the operational team needs to understand the shared responsibility model, and know what to monitor, and how to do so to ensure the best experience. Other considerations would be things like disaster recovery, business continuity, and service catalogs.
Once all of these items are addressed, you can move forward and start planning the cloud migration/rollout.
Typically, there are four distinct phases as part of this journey:
Project Phase
Foundation Phase
Migration
Reinvention
 These are described in a bit more detail below.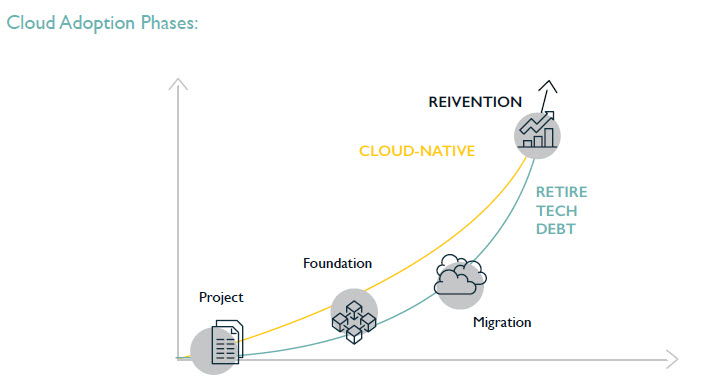 PROJECT:
In this phase, you are running projects to get familiar with the benefits cloud provides.
FOUNDATION:
In this phase, you build your cloud foundation to scale your cloud adoption. This includes a Cloud Center of Excellence and operational models.
MIGRATION:
This phase is where you migrate mission critical workloads to the cloud, and in some instances, even whole datacenters.
REINVENTION:
Once your operations are in the cloud, you can focus on reinventing them by taking advantage of the various platforms and serverless architectures.
The Framework is comprehensive and includes all aspects of the journey. It is not merely a technical journey, so it should be treated as an all-inclusive project. To be successful in the cloud journey, you will have to engage with stakeholders in various departments in the business. This is to clearly communicate the costs, benefits, and changes that will need to take place.
The iOCO Approach
With a cloud-agnostic solution, iOCO has taken what all the providers offer and defined a unique approach. With years of cloud expertise in everything from private, to hosted, to hyperscale cloud through various partnerships, iOCO has developed a framework that includes all important aspects for a company to engage on their cloud journey.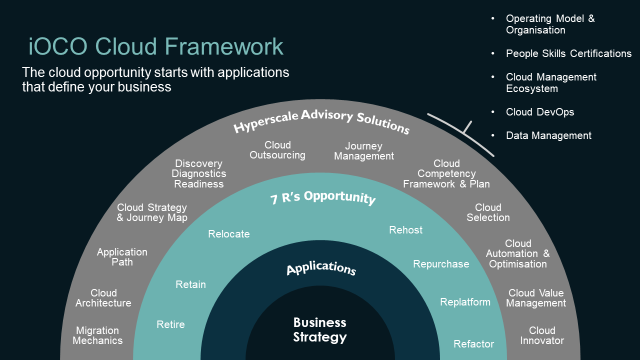 At the core of the engagement, iOCO seeks to fully understand the business strategy around cloud, looking at what the problems and pain points are. Understanding this allows iOCO's team to deliver solutions that are not only effective, but also highly efficient. Once the organisation's buy-in has been obtained, the next step is understanding the various applications used by the company, and the architecture of each, grouping them into various level of criticality. By doing this, iOCO can formulate a design and plan that suits the customer, managing customer expectations while ensuring minimal downtime.
Once this point has been reached, iOCO does an assessment of the applications, keeping their complexity and criticality in mind, and then classifies these applications in terms of the 7 R's:
Retire
Retain
Relocate
Re-host
Repurchase
Re-platform
Refactor
After this assessment has been done, iOCO will formulate a plan, detailing what the cloud journey will look like, and what the organization should keep in mind. This process also helps identify possible risks and challenges.
This all gets layered with iOCO's various hyperscale advisory solutions, adding value in terms of cost efficiencies, security optimisation, architecture development, and next-gen cloud managed services. This approach has helped iOCO become a leading cloud innovator and trusted advisor to hundreds of JSE listed companies.
It is always critical to remember that a framework is simply that – a guide. Guides are open to interpretation, and never compulsory, but the reality is that the more stringently you follow the frameworks at your disposal, the more success you tend to have. The iOCO Cloud Framework has been designed to ensure the continued success of customers, wherever they are in their cloud journey.