Salesforce is the #1 CRM solution. At iOCO, we help companies drive results for sales, service and marketing. With our skills and knowledge, we help digitalise your business processes and support customer experiences to meet changing business and market requirements. iOCO is a Certified Salesforce Consulting Partner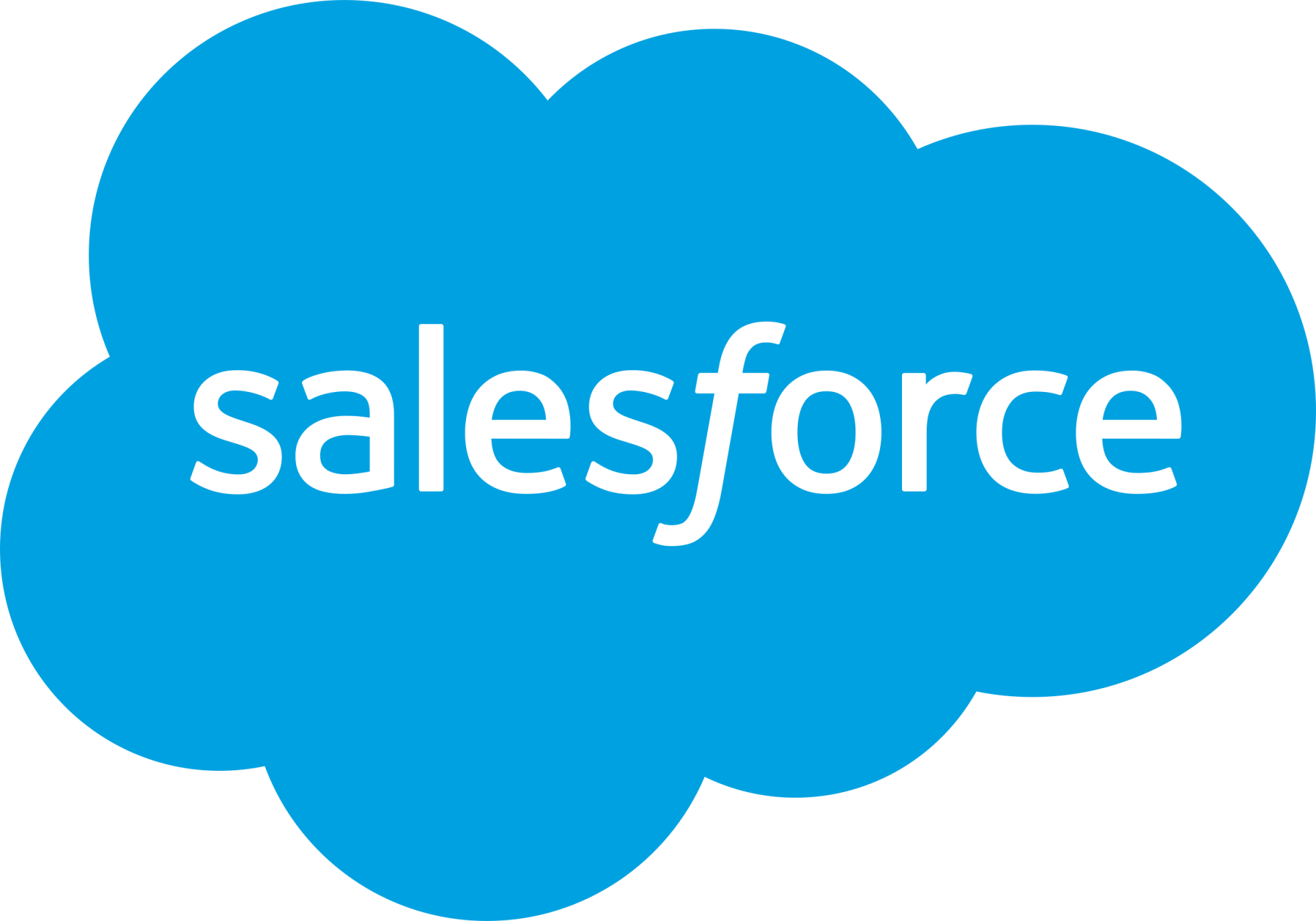 Salesforce
In a world punctuated by digital disruption, data is your greatest source of market differentiation. In an era where data is the new and trusted currency, traditional approaches to data management won't buy you much value. It's time to disrupt or be disrupted. Unleash the power of your data to fuel intelligent disruption by creating opportunities, solving complexities, and accelerating innovation, all while defending against market, business, and technology disruptions.
Our solution and services enable every interaction and touchpoint to build the 360-degree view of your customer. Future-fit companies are evolving accordingly, redesigning their businesses to compete on the most important market differentiator: their ability to understand, engage and earn the trust of their customers.
CRM is more than just a technology. We help align the technology with the business vision and deliver solutions in partnership with you, our customer.
We have experience in the various Cx disciplines as listed and across multiple vertical industries such as telecommunications, financial services and retail, both for Tier 1 organisations and SMEs.
iOCO is one of the largest System Integrators on the continent, and we are well equipped to provide our customers with complete solutions and services over and above the Salesforce CRM offering.
iOCO is a Certified Salesforce Consulting Partner.
We help drive and accelerate innovation.
With automation of processes, we provide a consistent and productive platform to instil that ethos throughout the organisation.
Our organisation has been delivering solutions for over 20 years in the CRM environment.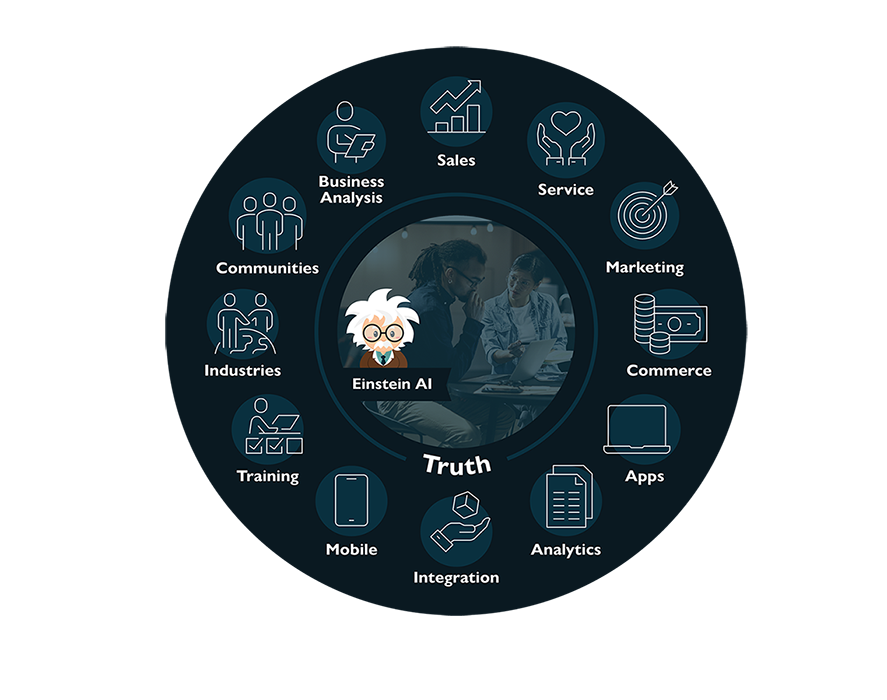 Customers should be at the centre of every business. Without customers, there is no business. With so many choices at their fingertips, customers now choose to spend their time and money with businesses that put them first. Each customer needs to be treated as if they are the only customer, which means we need to understand and capture every interaction with that customer to allow the building of a strong relationship.
Let us help you develop customer-centric business processes that unite employees, departments and partners to solve customer needs with the full force of the organisation.
iOCO has the resources to make this possible with Salesforce Customer 360, whereby each customer is exposed to a suite of products that will ignite a spark in their business
Join iOCO in the Digital Revolution of CRM Solutions for Businesses
At iOCO, we believe that people are in the driver's seat of 4iR, and we have found an intersection between human ingenuity and cloud technologies to deliver the entire CRM solution, regardless of where you are.
Sales
Empower sales reps to work faster and smarter using Sales Cloud. Sales Cloud provides versatility as it drives the sales process from Lead to Order in a seamless manner. Tracking the stages of an opportunity, its associated products, configuration / quoting / pricing and orders. Forecast how the business is performing. Improve sales reps' productivity with automated processes.
Service
Service Cloud gives customer service agents the ability to work faster and more productively across customer service channels such as phone, email, web, chat and social media. The aim is to make customer service frictionless, help improve customer satisfaction scores and reduce costs.
Marketing
Invest in a cloud marketing automation platform that enables you to deliver relevant and customised journeys across multiple channels and devices. The platform was developed to help marketers in attaining customer's real-time interaction and insights needs.
Apps
At iOCO, we want our customers to move faster and be more productive; close deals, service customers, track marketing and even collaborate and share files on any device; anywhere and anytime.
Artificial Intelligence
Salesforce has AI capabilities within its suite of features that can be deployed in various cases throughout the business. It can be used to optimise opportunities, perform prediction tasks on marketing campaigns, sales forecasts and customer expectations.
Platform
Salesforce Platform is the next generation cloud-based technology that contains a spectrum of functionalities that can transform the way businesses work to ensure a customer-centric action. This spectrum consists of sales, service, marketing, commerce and mobile applications, all pre-built and can also be configured to suit any scenario of the business.
Analytics
Analytics is a fundamental aspect of every organisation. Salesforce contains reporting and dashboard functionality. Additionally, with Einstein Analytics you get to apply the power of Artificial Intelligence to make better decisions in your organisation without coding expertise.
Commerce
Commerce Cloud is a multi-tenant, cloud-based commerce platform that empowers brands to create intelligent, unified buying experiences across channels such as mobile, social, web and store.
Integration
Salesforce provides effortless integration to connect with other SaaS and On-Premise applications.
Using Salesforce Connect, it lets your Salesforce org access data from a wide variety of external systems. There are also many other integration options available due to Salesforce's open APIs based on industry standards.
Training
Experience a seamless transition into Salesforce CRM platform through effective training sessions with iOCO Consultants. Apply effective change management framework to navigate through change in a productive manner. Innovative change management solutions are your disposal to migrate to technological revolution.
Communities:
Customers, Employees, Partners
Salesforce Community Cloud improves how partners, employees and customers engage with the platform. It simplifies partner channel sales, on-boarding and training processes. One can reduce service costs and increase customer satisfaction by giving customers an online portal to get answers, access account information and create / track service cases.
Mobile
Salesforce Mobile allows users to optimise their time and productivity by engaging on the platform without being in the office. Connected to both the right information and their colleagues, sales and service teams can work smarter and see dramatic improvements in performance.
Deploy Frameworks that Reduce Workload and Improve Productivity
iOCO aims to take care of the technicalities of Salesforce Platform while customers focus on using Salesforce products to grow their businesses. The exponential growth of businesses lies on migrating towards world-class technologies with minimum code, and Salesforce is a testament to that phenomenon.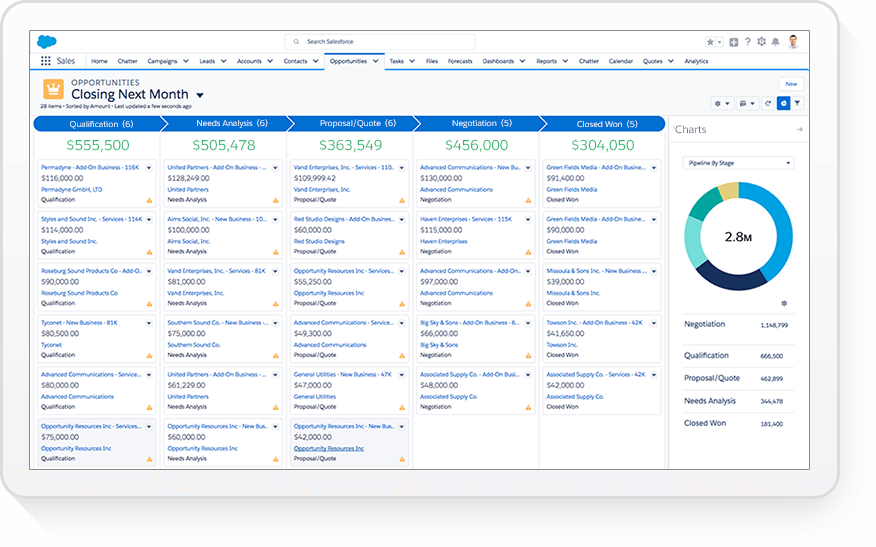 Salesforce allows sales reps to define a lead processes and describe what information and actions are needed in order to convert a lead into an opportunity. Web-to-Lead is one of the ways that leads could be captured automatically and their information saved. Moreover, leads are automatically assigned to sales reps according to conditions set up by the business. Each lead consists of Lead Scoring metric that predicts whether the lead will be converted into an opportunity.
Sales reps will be able to track leads assigned to them, analyse lost leads and seamlessly convert successful leads into opportunities, account and contact information within the platform.
Some capabilities are:
Account Management
Capture relevant information on all the companies that you are or were doing business with. Salesforce account types allow you to store data not only about your customers and partners, but also about competitors, investors, resellers and all other parties that you may interact with during your work process.
Contact Management
Have a complete view of your customers, including activity history, key contacts, customer communications and internal account discussions. Gain insights from popular social media sites such as Facebook, Twitter, LinkedIn and YouTube – right within Salesforce.
Opportunity Management
Get all the details on your team's deals – stage, products, competition, quotes and more. Stay connected to the people and information you need to close every sale.
Sales Collaboration
Tap into the wisdom of your company's social network with Chatter. Get the resources you need to close more deals, faster. Find experts, access competitive information and track deals wherever you are.
Sales Performance Management
Drive team performance to a whole new level. Set metrics-based goals, give coaching notes, provide continuous feedback and amplify winning behaviours with real-time recognition and rewards.
Sales Forecasting
Fast, easy, accurate. Get a real-time view into your team's forecasts. Use in-line editing, override visibility, multi-currency support and more to stay on top of your business.
Territory Management
Managing sales territories is tough – we want to help simplify the process. Create multiple territory models, preview them before rollout and continually optimise and balance territories throughout the year.
At iOCO, we recognise that the definition of CRM goes beyond sales; it involves reaching every corner of modern business.
Platform
Salesforce Platform is a single, secure and scalable platform which Salesforce applications are built on. It enables Salesforce products to be customised to individual business needs and integrated with other systems through apps from the AppExchange. Salesforce Platform is also an app development solution, allowing businesses to build and deploy their own applications.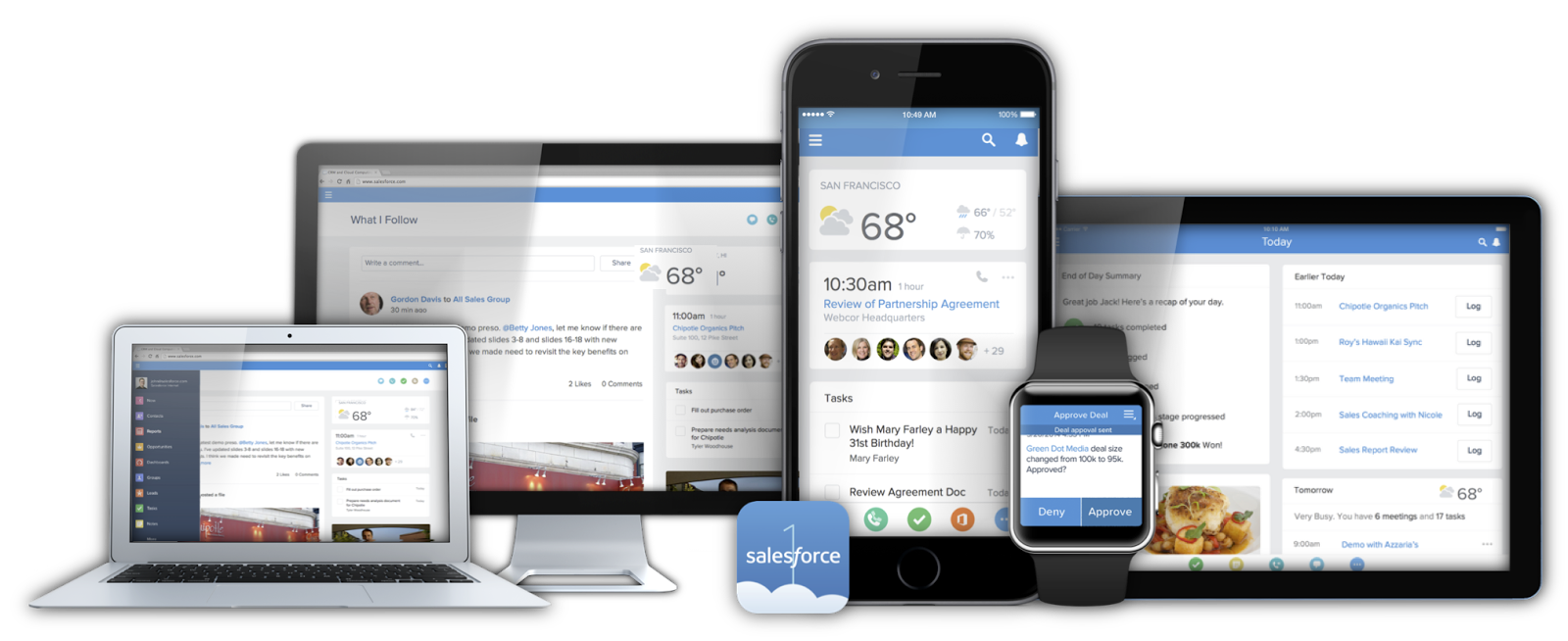 Sales
With Salesforce Platform, also known as Lightning Platform, a sales rep may communicate with customers, work on sales deals, track opportunities and other key metrics on any device.
Service
Support agents will be able to attend to customer issues at lightning speed as they can also be notified on their mobile devices, thereby increasing productivity and keeping customers happy by resolving their cases quicker. Salesforce Platform provides solutions for other products within the Customer 360 View framework.
Artificial Intelligence (AI)
iOCO recognises the importance and opportunity of deploying AI capabilities to solve several problems. AI programs are capable of performing limited intelligence-related tasks, such as reasoning, planning, learning, forecasting and understanding language. When coupled with data capture, storage and the analysis capabilities of an effective CRM solution, AI can produce amazing results. AI software does't learn in the same way human brains do, instead, it depends on something called 'machine learning'. AI functionalities are built for the entire suite of products within Salesforce. Some examples include: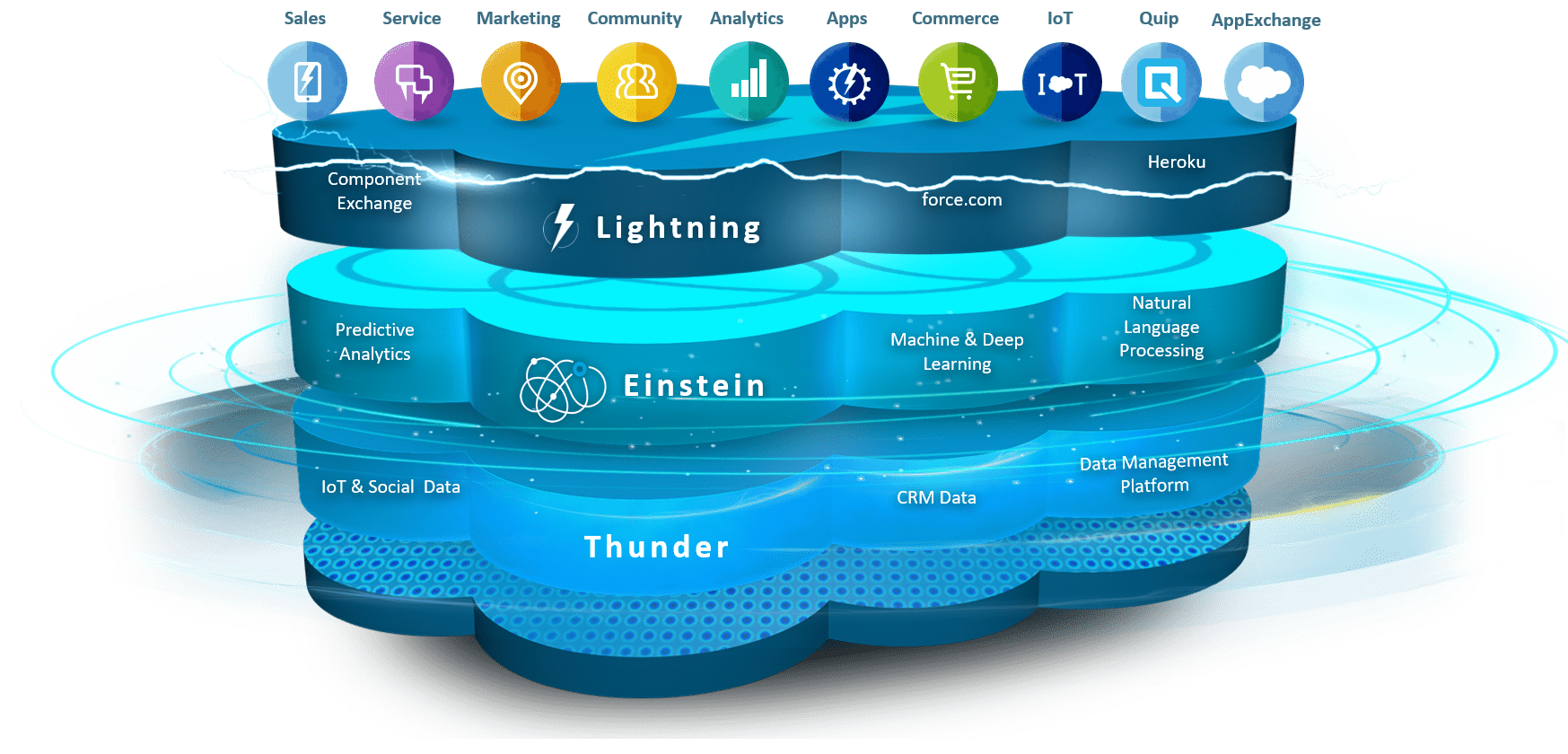 AI in Sales Cloud
For sales reps, predicting the future is an important super-power. Einstein Analytics is a Salesforce feature that can be used to create AI models and dashboards that can study the correlation between different variables in the sales information within Salesforce. This provides the power to predict outcomes and make recommendations on the next steps that sales reps should take in order to successfully close sales deals.
AI in Service Cloud
iOCO helps customers resolve top, routine issues with Einstein Bots – Salesforce chatbots, that can perform actions such as checking status of claims or modifying orders. The chatbot uses natural language processing on real-time channels like SMS, chat and messaging apps (like Facebook Messenger and WhatsApp).
Immediately engage your customers with Einstein Bots to collect and qualify customer information for seamless handoff to agents. Save your agents' time by using AI to analyse incoming cases and predict case fields for any language with Einstein Case Classification. Save agents even more time by automating the initial case triage process. Automatically apply predictions and then route cases to the right agents with Einstein Case Routing.
AI in Commerce
To help customers navigate eCommerce stores, Salesforce has Einstein Bots, AI-based assistants that help customers to successfully add products into carts, add payment details and answer their FAQ.
AI algorithms such as Apriori models for recommendation are built to help customers discover items they'll love – and reduce abandonment. Deliver perfect product recommendations, easy and accurate product sorting, and relevant search results at every customer touchpoint.
AI in Marketing
The advantages of AI-enhanced marketing are difficult to ignore. AI can be taught to recognise which customers are likely to engage and which are not, and how best to approach every client in order to facilitate an effective one-on-one customer journey. AI can review past actions, consider preferences and recognise similar behaviours across large customer populations. With this information, marketers can then create campaigns designed to reach many clients, and to do so in a way that is customised and personal on an individual level. One of the most advantageous aspects of AI and marketing automation is that it frees marketers from many of the tedious tasks associated with their position. By allowing AI programs to handle various repetitive or time-consuming marketing responsibilities, marketers can focus their talents on bigger concerns. This leads to improved marketer productivity and more effective marketing in general.
Analytics
Data-driven solutions are important for every business, and at iOCO we understand the importance of using the best reports and dashboards to communicate insights drawn from data. Salesforce consists of reports and dashboard tools that can be used without writing code to maximise productivity. These reports and dashboards can be subscribed to in order to get an update on the key metrics that are essential to the business. Stakeholders will be able to keep track of the business and its employees using reports and dashboards.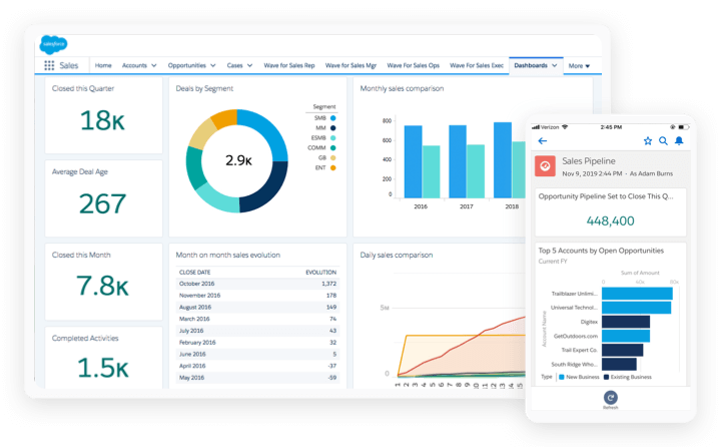 Communities - Customers, Employees, Partners
Salesforce Community Cloud provides a one-stop portal for customers and employees to ask questions, review their schedules, log cases, manage expense reports, find training materials, search knowledge databases and collaborate with co-workers. In addition, Community Cloud is seamlessly integrated with core Salesforce products and includes a single point-of-entry or login. Reduce service costs and increase customer satisfaction by giving customers an online destination to get answers, access account information and track service cases. Community Cloud also offers a great partner-central experience. You can create a Partner Relation Management (PRM) solution that provides a simplified path of channel sales process from on-boarding to selling. Moreover, optimise on-boarding, recruitment, training and support your partners with features and tools that could be implemented immediately.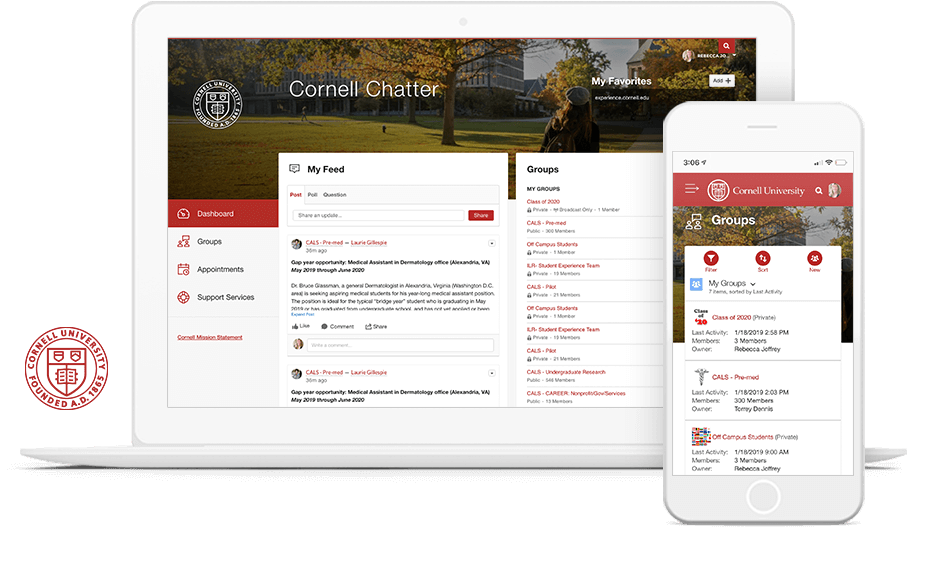 Mobile
Being able to run your business from your phone is one of the most powerful ways to improve productivity within the business. Salesforce Mobile can conduct a wide range of operations as well as desktop applications. With Salesforce mobile application, customers can zoom in on opportunities and track them while they are on the move. In addition, they can derive insights from dashboards and close deals without being in the office physically. Support agents can get instant notifications regarding cases and work on them immediately. This way the support agents will be able to resolve cases quicker and more efficiently, regardless of where they are. Personalised, customised mobile apps can be built in order to fit unique business processes. Moreover, build and automate your ideal mobile campaigns with custom templates for outbounds, text-response, email opt-in campaigns, info capture and multimedia messages.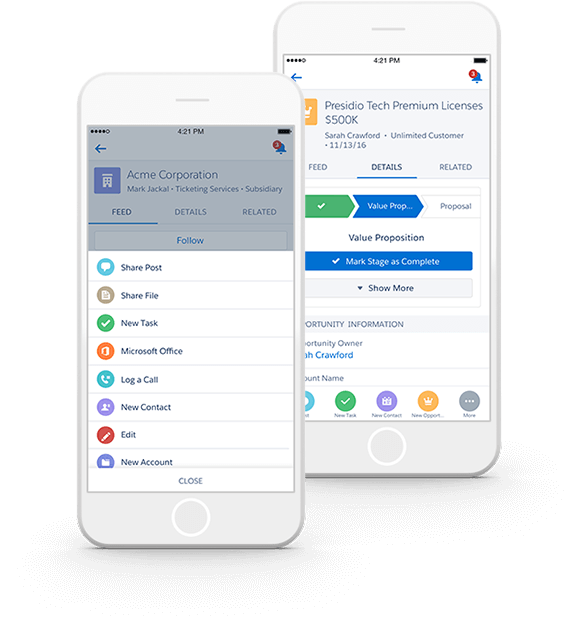 Apps
For your business to thrive, it's important that you stay innovative, hence we build enterprise-quality apps that help your company reach its goals. AppExchange is Salesforce's business app marketplace that lets users extend their functionality with apps and components for every department and industry, including sales, marketing, customer service and more. Instead of building solutions from scratch, you can search through thousands of apps and many customer reviews to help you find the best match for your business. This saves a lot of time and increases teams' productivity and company growth. The Heroku Elements Marketplace is another marketplace where developers can get over 150 add-ons that can easily integrate into the Heroku app and eliminate using invalidated components and writing code from scratch.
Service Cloud / Field Service
Customers are your highest priority, so attending to their needs is of utmost importance. We enable service teams to work faster no matter where they are and can provide instant support to whichever channel a customer prefers to engage with, be it via a self-service portal, email, phone, SMS or WhatsApp for business. Using this omni-channel approach, we can automatically route cases, leads and other work to the most appropriate, available resources, making it easy to prioritise work correctly at any time and at scale.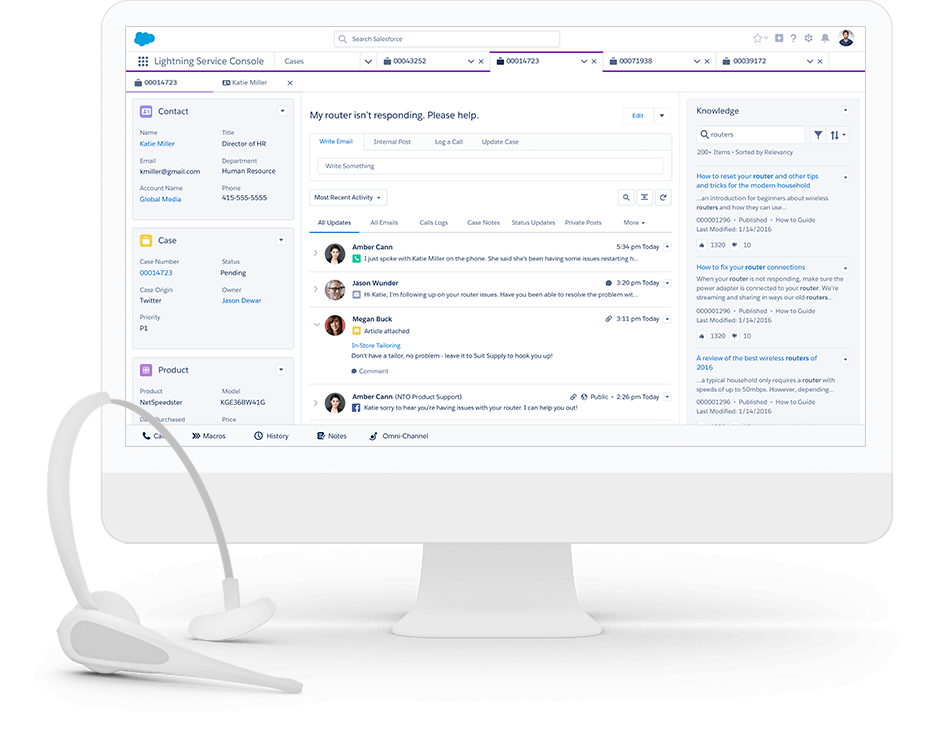 Service Cloud includes the Case Management functionality which allows users to record, track and solve any customer issues. It includes the ability to create cases either from an email (email to case) or from a web form (web to case). Service agents can get a guide through processes with scripts and only see relevant customer details to serve the customer effectively. Manual and repetitive work is eliminated through automation of responses, field updates and task assignments. Agents also get to see the full context of their cases and know what to focus on and when.
Field Service Lightning (FSL) enhances field service management by automation and integration of tasks for agents, dispatchers and mobile employees. Agents, dispatchers, mobile employees and managers deserve a complete view of the customer, full context into cases and assets, as well as access to all the information needed to help the customer anytime, anywhere and from any device.
We help you create and manage work orders for field service operations and instantly view Knowledge articles and track SLA compliance with Milestones. Field Service Analytics give you easy, real-time visibility into operational performance and KPIs, therefore allowing for data to be drilled into all data from multiple systems, address customer complaints and stop problems before they happen. Lastly, we want you to be able to instantly book service appointments from Service Console or Customer Community.
Commerce
Salesforce Commerce Cloud helps companies transform shopping experiences across all digital channels: mobile, social, web, and store. It provides a rich set of capabilities, including marketing, merchandising, content, promotions, customer service, fulfilment and AI. Every interaction is personalised to create better trails to conversion. This helps with personalised interactions to increase loyalty and customer satisfaction. We also ensure unified experiences across digital and in-store with a 360-degree view of all orders, inventory and CRM, which enables connecting B2B and B2C customers across every touchpoint, wherever they want to interact.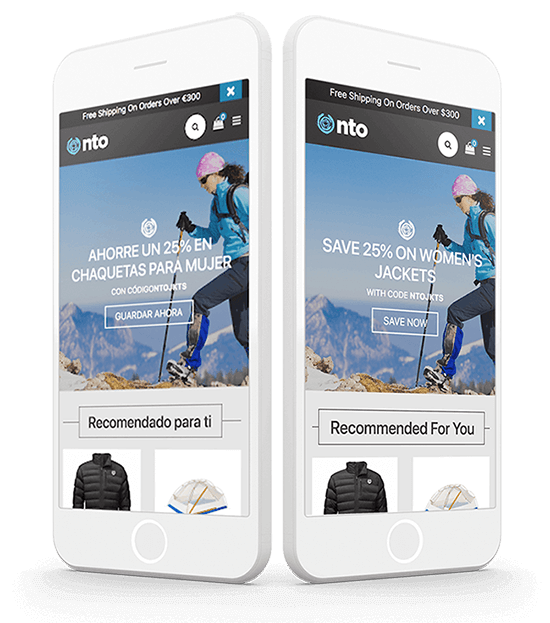 Training and User Adoption
iOCO Salesforce believes in being by the side of its customers in times of transition. With Salesforce implementations, customers will experience a seamless handover and training methodology to guide end-users on how to navigate the CRM platform. Training sessions can be arranged between iOCO and customers to help them to become skilled at using Salesforce products for their specific purposes. In addition, Salesforce consists of a thorough change management framework that will avoid typical issues that occur when customers go through changes on their platform like new functionality.
Integration
iOCO can build integration between SaaS and On-Premise applications, taking advantage of Salesforce Integration options such as REST API, SOAP API, BULK API, Streaming API, Apex REST endpoints, Platform Events, External Services, Apex HTTP Callouts and External Objects.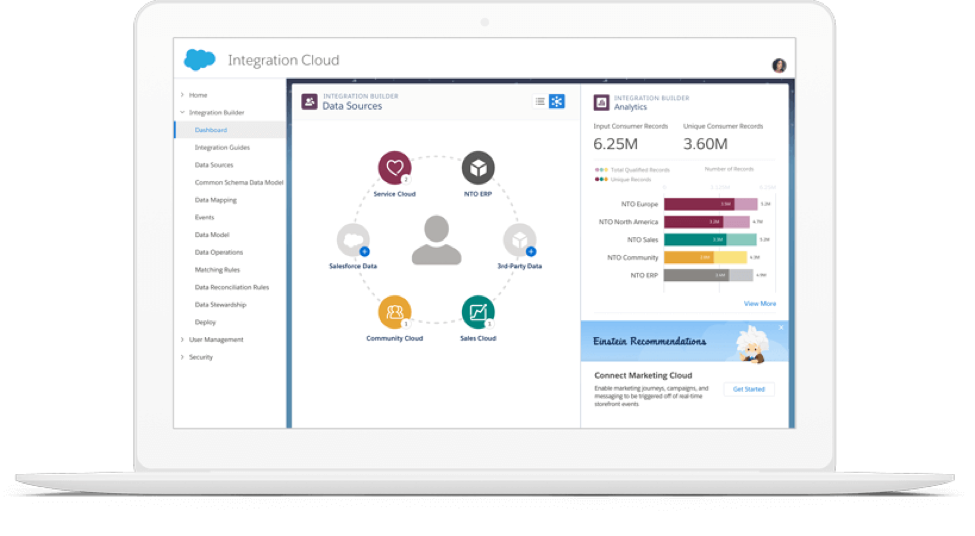 Salesforce Connect (Lightning Connect) is a framework that enables you to view, search and modify data stored outside of your Salesforce CRM, say, in an ERP or a collaboration system. Salesforce Connect treats external files (customer orders in ERP or marketing templates in SharePoint) as Salesforce external objects, allowing you to find them in global search, add them to record feeds and use them in all Salesforce apps (for example, link customer orders to the customer profile in CRM). All this happens without copying external records in Salesforce (no time lost on copying / downloading and sorting out file versions, no more payments for exceeded data limit!).
The iOCO Salesforce team can help you make the best choice on the integration tools to use, based on the requirements and systems that need to be integrated.
Marketing Cloud
Salesforce has two marketing platforms. The key distinction between these two services is that Marketing Cloud is optimised for B2C companies and Salesforce Pardot is for B2B. Pardot is a marketing automation platform that allows companies to find out their best leads, track marketing campaigns engagement and provide faster follow-ups. Both are extremely powerful and can power up your marketing efforts. But they are designed for different purposes and we will have to evaluate which one you need for your business. Salesforce Marketing Cloud enables your business to make the most of every customer interaction to empower the collaboration of sales and marketing teams to close deals faster, enhance buyer experience and create tailored campaigns with marketing-curated content. We assist delivering on your strategies by creating personalised, cross-channel customer journeys that deliver exceptional brand experiences across email, mobile, social, web and more.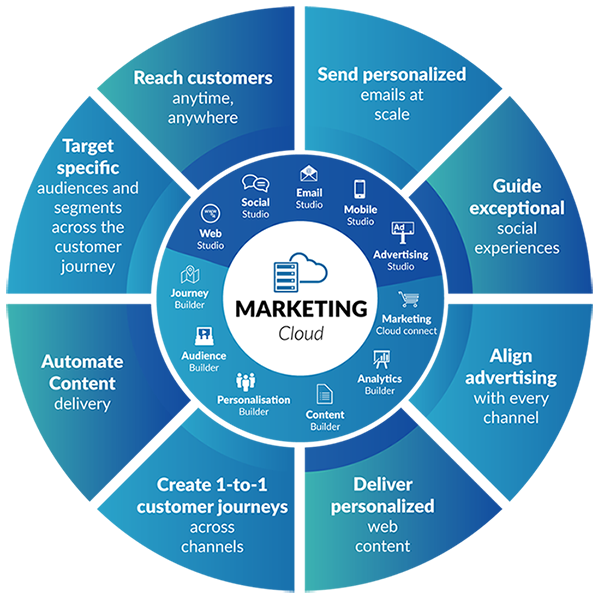 Marketing Cloud is a single platform made up of several products that fall under four primary buckets: messaging and automation, data and advertising, social media, and measurement and analytics.
Messaging and automation
Solutions include Email Studio, Mobile Studio, Journey Builder and Interaction Studio. These products help you create, build, deploy and manage communication across different marketing channels at scale, which help map the way you communicate with your customers.
Data and advertising
Solutions include Advertising Studio, Audience Studio and Data Studio. These products help you create custom audiences and combine data from any source to deliver more targeted marketing.
Social media
Solutions include Social Studio. This product lets you listen to digital conversations; engage across marketing, sales and service; and publish information for key discussions your customers are having about your brand.
Measurement and analytics
Solutions include Datorama and Google Analytics 360. These products help you understand what's working – or what's not – across all your marketing efforts, using cross-platform reporting and insights.
Start the conversation
Ready to talk about how we can help you